About Us
The Retired Professionals Society uniquely brings together in a social atmosphere individuals from the Western New York area as they contemplate retirement or have already retired from their professional careers and want to stay connected and enjoy engaging with peers and colleagues while discovering new insights about the world around us.
Our approach is to reach out to retiring professionals inviting them to stay involved with colleagues and join us at monthly luncheons in a relaxed country club setting. Members want to be stimulated educationally and make new discoveries about the world around us so we invite speakers with unique understandings about emerging technologies and social trends. Additional gatherings include annual excursions to area attractions, special theater events, and member participation events. Current membership stands at 235 and is growing annually.
FAQs
Q: What is the purpose of the RPS?
A: The RPS is a social organization of retired professionals across all disciplines. The purpose of the RPS is to help enrich the retirement years of members through the presentation of programs at monthly luncheon meetings. These programs are designed to educate, entertain, or inspire, and also to afford the opportunity for the discovery of new ideas and information and interchange of opinions on subjects of special interest to members. The RPS does not engage in fund raising.
Q: How often does the RPS meet?
A: The Society meets monthly, from September to June, with a luncheon and speaker, to stay connected, socialize, and discover new and interesting aspects of the world around us. The May event consists of an out-of-town day trip with a luncheon and to attend a play at the Shaw Festival Theater in Niagara-on-the-Lake.  There is an additional day trip during the summer to the Finger Lakes area for special events, such a wine and cheese tour or a play at the Merry-Go-Round Theater in Auburn, NY.
Q: How long has the Society been in existence?
A: The Society was formed over 30 years ago under the auspices of the University of Rochester. Members who were newly retired from the University and from the Medical Center gathered to stay involved with one another and continue to discover developing new trends in their fields. It has since expanded from those early years to include professionals across many disciplines well beyond the University, such as legal, banking, teaching, nursing, the arts, corporate, government, military, and so on.
Q: Who runs the Society?
A: The Society has a member-elected board of up to 12 directors plus the immediate past president. Directors serve for a maximum of two three-year terms. Officers are elected by the Board and include the President, Vice President, Secretary, and Treasurer. With some exceptions, officers hold their positions for two one-year terms. The board also has six standing committees: Database; Marketing, Communications, and Public Relations; Membership; Nominating; Program; and Reservations. Non-board members are welcome to join a committee.
Q: May I bring a friend or significant other along to one of your luncheons?
A: Yes, you may bring one or two friends/significant others along to any of our luncheons. The guest fee is $32 per person. There is a cash bar available from 11:00 AM on.
Q: What kind of speakers do you typically have at your luncheons? How do you select them?
A: To select speakers, we consider suggestions from both the members and the board of directors. We schedule as far as nine months out. Topics must be of keen interest to the membership, either newsworthy, state of the art trends and developments, or new discoveries. The program committee interviews potential presenters, with an eye toward selecting people with impressive credentials, note-worthy achievements, and dynamic speaking abilities. We have enjoyed 72 presentations over the past eight years alone. Our upcoming and past speakers and their topics are posted elsewhere on this website.
What our members are saying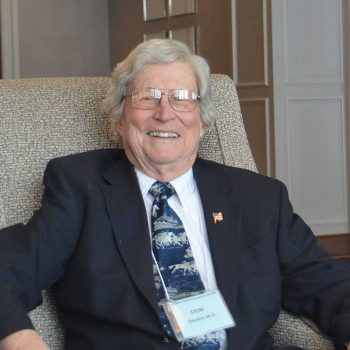 General Surgeon
URMC
I joined RPS many years ago and have been enjoying the monthly tradition of seeing my old friends and colleagues at the luncheons at Oak Hill. The food is wonderful. We really enjoy the fellowship, the new learning experiences, and having fun interacting with both new and long term members.